COLLABORATE 15, the technology and applications forum put on by three of Oracle's most influential user groups, wrapped last week in Las Vegas. The event drew thousands of Oracle users and solution providers, and included a week of informative sessions on hot topics, best practices and professional development. If you weren't able to attend, we brought back some highlights to help you catch up on the discussions.
Here are four takeaways from the conference to help you keep up with the latest requisites to success in the digital economy.
Mobile Is Key to Digital Transformation
Mobile continues to be a top issue—and if it isn't already, it should be a priority for your business. In fact, if this year's conference had an overarching theme, it was mobile. Among the over 1,000 sessions and panels, mobile appeared time and again as an imperative for transforming your business into a modern enterprise.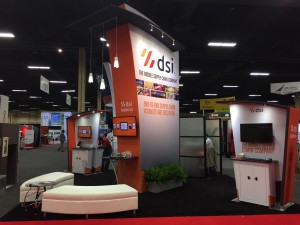 In today's business environment, everyone is a mobile user and they expect not only a great user experience, but also the ability to do their jobs anywhere, anytime and on any device. That means you need to be able to adapt—and quickly. Adapting quickly can turn a challenge into a competitive advantage. It's time to approach enterprise applications with a mobile-first design and build, one that supports rapid innovation, iteration and fluidity.
Users demand a customized, personalized and contextual mobile experience. In the enterprise, delivering on those expectations starts with role-based, user-focused design, and an approach to mobility that makes it possible to easily configure apps to meet the specific needs of your business in your industry, down to the individual user. Doing so will ensure that you are mobilizing now and for the future while increasing user adoption along the way. That is how you will turn your enterprise mobility projects into a source of innovation and ROI for your company.
The Modern Cloud Is Here
As much as ubiquitous connectivity pushes innovation in mobile, it also introduces new possibilities in cloud computing to support the rapid scale of high growth businesses. Future cloud offerings will be multilayered, multifaceted and tailored to the business processes around which they're deployed.
As you think about whether or not cloud is right for you, it's worth exploring where speed and rapid iteration might be useful for driving innovation. The options available that can be deployed quickly and without enormous cost can make taking aggressive steps toward IT agility more of a reality.
Internet of Things Continues to Grow
Of course, you can't discuss technological innovation in the enterprise without bringing up the Internet of Things (IoT). In dozens of sessions at COLLABORATE—especially keynotes—speakers called out the potential of IoT to expand the possibilities of real-time information and enable people to take informed action with the availability of meaningful data. The benefits of IoT are wide-ranging—among them, increased revenue, decreased costs and improved compliance.
In what one speaker called the "platformization of everything," machines digitize data automatically, without human interaction, and do so via a unifying platform where all of the data can come together. When that data is culled into meaningful information, businesses can become proactive with informed decision-making and predictive maintenance. And as wearable technology continues to take off, expect to see more enterprise use cases on form factors from smart watches to smart glasses inside and outside the four walls.
While figuring out how to approach all of this can seem overwhelming, keep in mind the key points about how to utilize technology to drive value, which remain the same: focus on the user's needs, the environment, the form factor and how this next step in tech evolution can help make your team's jobs easier.
Securing Data in the Mobile Era
With the increased connectivity and efficiency of mobile, cloud and IoT comes the heightened need to protect corporate data. These advancements, and the growing popularity of bring your own device (BYOD), introduce new security considerations to keep corporate data secure on different devices.
Taking back the management of enterprise apps via a lifecycle control function continues to grow in importance. How you manage your apps can dictate how secure you are able to make your data and sets you up to take advantage of next era technology options. For instance, with geo fencing, businesses can use GPS or WiFi to set policies allowing access to corporate data based on location. And, among the most talked-about security solutions discussed at COLLABORATE was the containerization of corporate apps. Containerization lets you focus on protecting the data, rather than the whole device. This way, employees leaving a company can have their devices wiped of the corporate app and data without losing any precious personal data.
For more event highlights as they happened, check out the event hashtag, #C15LV, on Twitter.